UPDATE: August 23, 2017 – yes, I have noticed that I misspelled the word "Plaintiff" and have offered an amendment with an embarrassed apology to the court.  
UPDATE: August 24, 2017 – Amendment to petition HERE. Court date HERE. 
Bonus blog addition to the below court motion filed this week – Kate Brumback at the Associated Press, August 2012:
"Some illegal immigrants can get Georgia driver's licenses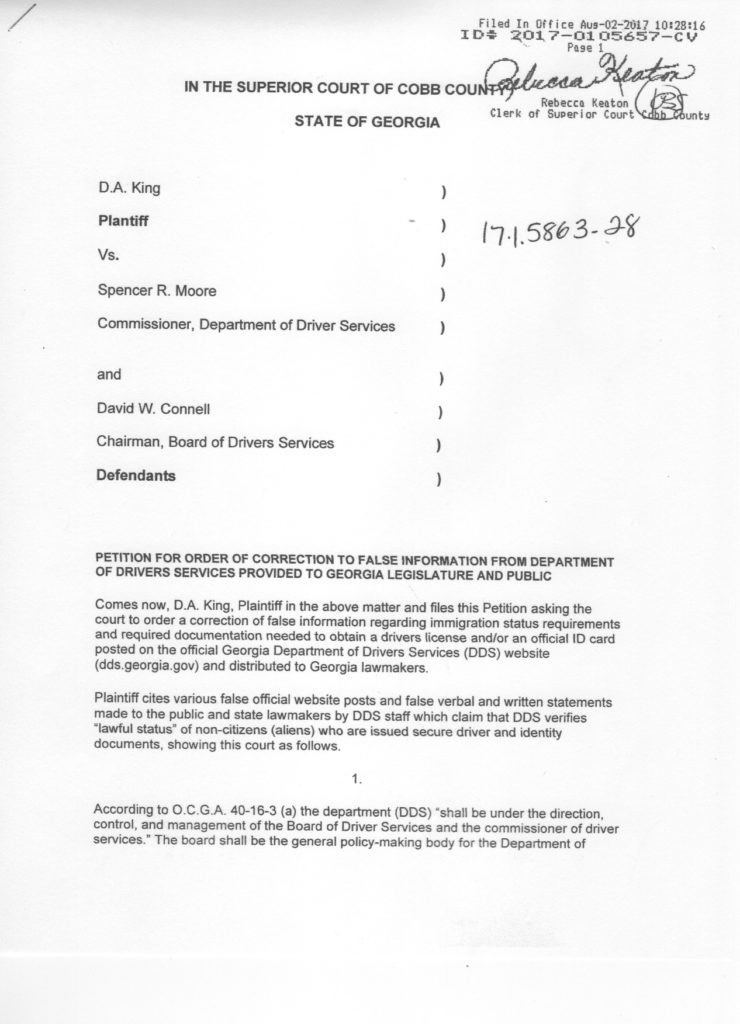 IN THE SUPERIOR COURT OF COBB COUNTY 
                              STATE OF GEORGIA 
D.A. King
Plantiff
Vs.
Spencer R. Moore
Commissioner, Department of Driver Services
and
David W. Connell
Chairman, Board of Drivers Services
Defendants
PETITION FOR ORDER OF CORRECTION TO FALSE INFORMATION FROM DEPARTMENT OF DRIVERS SERVICES PROVIDED TO GEORGIA LEGISLATURE AND PUBLIC
Comes now, D.A. King, Plaintiff in the above matter and files this Petition asking the court to order a correction of false information regarding immigration status requirements and required documentation needed to obtain a drivers license and/or an official ID card posted on the official Georgia Department of Drivers Services (DDS) website (dds.georgia.gov) and distributed to Georgia lawmakers.
Plaintiff cites various false official website posts and false verbal and written statements made to the public and state lawmakers by DDS staff which claim that DDS verifies "lawful status" of non-citizens (aliens) who are issued secure driver and identity documents, showing this court as follows.
1.
According to O.C.G.A. 40-16-3 (a) the department (DDS) "shall be under the direction, control, and management of the Board of Driver Services and the commissioner of driver services." The board shall be the general policy-making body for the Department of Driver Services; and the commissioner shall be the chief executive officer of the department, subject to the policies established by the board.
A principal role of the Chairman of the Board is to manage and to provide leadership to the board and the Commissioner.
The defendants can be served with process at Department of Driver Services headquarters, 2206 East View Parkway, Conyers, Georgia 30013 at a scheduled board meeting 10:00AM, August 9, 2017. (see exhibit marked "A")
2.
Regarding non-citizens (aliens), defendants bear final responsibility for multiple false entries (see exhibit "B" online info: Exhibit "B": is three pages of screen shots fro DDS website- HERE and HERE and HERE ) on the official DDS website assuring the public and state officials – including state legislators – that documentation of "lawful status" is required from applicants as a condition of obtaining a Georgia drivers license and/or official photo ID card and that such documentation is collected by DDS staff before a drivers license and/or ID card is issued.
Under the authority and direction of the Defendants, The DDS Legislative Liaison, Michael Mitchell, has falsely assured state legislators in at least one widely distributed letter that "DDS requires proof of lawful status from all non-citizens before the issuance of driver's license or ID Card." (see exhibit "C")
Defendant Spencer Moore has sent a written reply to an inquiry from a state legislator on this matter claiming that "DDS requires that all non-citizens provide documentation showing proof of lawful status." (see exhibit "D")
3.
As final authority on information distribution, Defendants acknowledge that DDS has an ongoing policy of issuing Georgia drivers licenses and official ID cards to aliens who have been granted deferred action on deportation by the Obama administration in a program known as 'Deferred Action for Childhood Arrivals' ('DACA') as well as other aliens granted deferred action on deportation by federal immigration enforcement authorities outside of the Obama DACA amnesty program.
4.
The claims made by DDS for which the Defendants are directly responsible are proven false by clear information from the federal authorities, which reflects immigration status as set by congress. The official U.S. Department of Homeland Security – United States Citizenship and Immigration Services website clearly states: "
"What Is DACA
On June 15, 2012, the Secretary of Homeland Security announced that certain people who came to the United States as children and meet several guidelines may request consideration of deferred action for a period of two years, subject to renewal. They are also eligible for work authorization. Deferred action is a use of prosecutorial discretion to defer removal action against an individual for a certain period of time. Deferred action does not provide lawful status." (underline/bold emphasis by Plantiff.) USCIS Webpage here: https://www.uscis.gov/humanitarian/consideration-deferred-action-childhood-arrivals-daca (see exhibit "E") 
5.
Included in the "FAQ" section of the DHS/USCIS website are answers to questions focused on deferred action and DACA on deportation
"Q1: What is deferred action?
A1: Deferred action is a discretionary determination to defer a removal action of an individual as an act of prosecutorial discretion. For purposes of future inadmissibility based upon unlawful presence, an individual whose case has been deferred is not considered to be unlawfully present during the period in which deferred action is in effect. An individual who has received deferred action is authorized by DHS to be present in the United States, and is therefore considered by DHS to be lawfully present during the period deferred action is in effect. However, deferred action does not confer lawful status upon an individual, nor does it excuse any previous or subsequent periods of unlawful presence. (all underline/italics emphasis mine)
Q3: Is there any difference between "deferred action" and DACA under this process?
A3: DACA is one form of deferred action. The relief an individual receives under DACA is identical for immigration purposes to the relief obtained by any person who receives deferred action as an act of prosecutorial discretion.
Q4: If my removal is deferred under the consideration of DACA, am I eligible for employment authorization?
A4: Yes. Under existing regulations, if your case is deferred, you may obtain employment authorization from USCIS provided you can demonstrate an economic necessity for employment.
Q5: If my case is deferred, am I in lawful status for the period of deferral?
A5: No. Although action on your case has been deferred and you do not accrue unlawful presence (for admissibility purposes) during the period of deferred action, deferred action does not confer any lawful status.
The fact that you are not accruing unlawful presence does not change whether you are in lawful status while you remain in the United States. However, although deferred action does not confer a lawful immigration status, your period of stay is authorized by the Department of Homeland Security while your deferred action is in effect and, for admissibility purposes, you are considered to be lawfully present in the United States during that time. Individuals granted deferred action are not precluded by federal law from establishing domicile in the U.S.
USCIS webpage here: https://www.uscis.gov/humanitarian/consideration-deferred-action-childhood-arrivals-process/frequently-asked-questions (underline emphasis by Plantiff.) (see exhibit "F")
6.
In his written response to a state legislator (exhibit "D") , Defendant Spencer Moore has provided information on the number of drivers licenses and ID cards DDS has issued to aliens in various illegal immigration status categories (in addition to DACA) as reflected on the federal Employment Authorization Document ('EAD', also known a 'work permit'). The coded categories detailed in defendant Moore's letter are:
A-10 Granted withholding of deportation (removal), A-11 Deferred enforced departure, C-09 Pending adjustment of status, C-13 Deportation or exclusion proceedings pending, C-14 Deferred action, C-18 Deportable alien under order of supervision, C-20 Completed legalization application filed, C-33 Deferred action for Childhood arrivals.
Attached, please see 'Common-Place Handbook United States Citizenship and Immigrant Status (USCIS) Codes.' (EAD categories begin on page 12-21) (see exhibit "G")
Under federal law, aliens in these categories do not have lawful status, which is set by congress.
Plaintiff acknowledges that there is a separate argument that illegal aliens who have been granted a federal EAD have "lawful presence" due to the fact they are not accruing unlawful presence under federal immigration law.This petition is not related to that matter or term and is focused only on the statements authorized by the Defendants that use the term "lawful status."
7.
When asked about joining legal action by other Attorney's General to challenge former President Obama's DACA amnesty, Chris Carr, Georgia's Attorney General, has made a statement to a local National Public Radio affiliate, WABE News (Georgians React To Uncertain Future Of DACA Program, July 17, 2017 – see exhibit "H"), indicating the Department of Law's official opinion concerning deferred action on deportation and the DACA program:
"As Attorney General, I take seriously my duty to defend the Constitution of the United States and the Constitution and laws of the state of Georgia. We have continuously and clearly taken the position in ongoing legal cases that DACA does not confer legal status," Carr said. "It is important to remember that it is properly the role of Congress to address immigration issues from a legislative perspective. I am aware that this is a complex and emotional issue, and I would prefer to give the new Administration — which has been vocal about this issue — appropriate time to consider any additional actions that should be taken."- Chris Carr.
8.
In direct contradiction of the claims the defendants authorize on the DDS website and in written and verbal statements to legislators and the public, both federal and state authorities make it clear that DDS does in fact issue drivers licenses and/or a ID cards to aliens without lawful status and that non-citizen applicants do not in fact provide verification of lawful status as they do not possess that status.
9.
Having years of first-hand and up-close observation in the state Capitol, Plaintiff respectfully assures the court that the false information DDS has circulated on the requirement of alien's documentation of lawful status to obtain a drivers license and/or ID card under Defendant's authority and direction has served to confuse legislators and has directly effected the outcome of legislation related to this topic. Due to the actions of the defendants, DDS has suffered damage to it's credibility and created doubt about the priority of it's stated mission of providing Georgians with secure driver and identity credentials.
10.
Plaintiff is unable to cite any state law that prohibits an official agency such as DDS from disseminating false information to the public or lawmakers. Under the principle of Equitable Jurisdiction and natural justice and in the interest of the common good and fair and honest government, Plaintiff petitions the the court for the following order:
1) Defendants to correct the official DDS website on each page it uses the term "lawful status" to describe verification requirements for a drivers license and/or ID card.
2) Defendants will cease all dissemination of statements that reflect the falsehood that DDS currently requires proof of lawful status before it issues a drivers license and/or an ID card.
3) An order directing Defendants to send letters of correction and apology to each member of the Georgia General Assembly stating "Contrary to previous statements, the Georgia Department of Drivers Services does not require verification of lawful status from non-citizens in the processing and issuance of drivers licenses and/or ID cards. Non-citizens (aliens) with residence in Georgia without lawful status can and do obtain a Georgia drivers license. We have corrected prior misinformation on this matter on the official DDS website."
4) An order that the Defendants issue an official media advisory with the above corrective statements and apology.
Respectfully submitted,
D.A. King
Marietta, Ga. 30066
NOTE:
I hand delivered this letter of complaint to Georgia Governor Nathan Deal's office in February. About fifteen minutes later, a staffer called me to say the governor wanted to have a meeting and they would call me in the next few days. I never heard another word from them. DDS is still stays away from the truth to the public and to state lawmakers.