Added July 21, 2016 – Only four of the street screamers were arrested, all but one of them had charges dismissed and most were released the same day.
Insider Advantage Georgia
Tuesday, June 28, 2016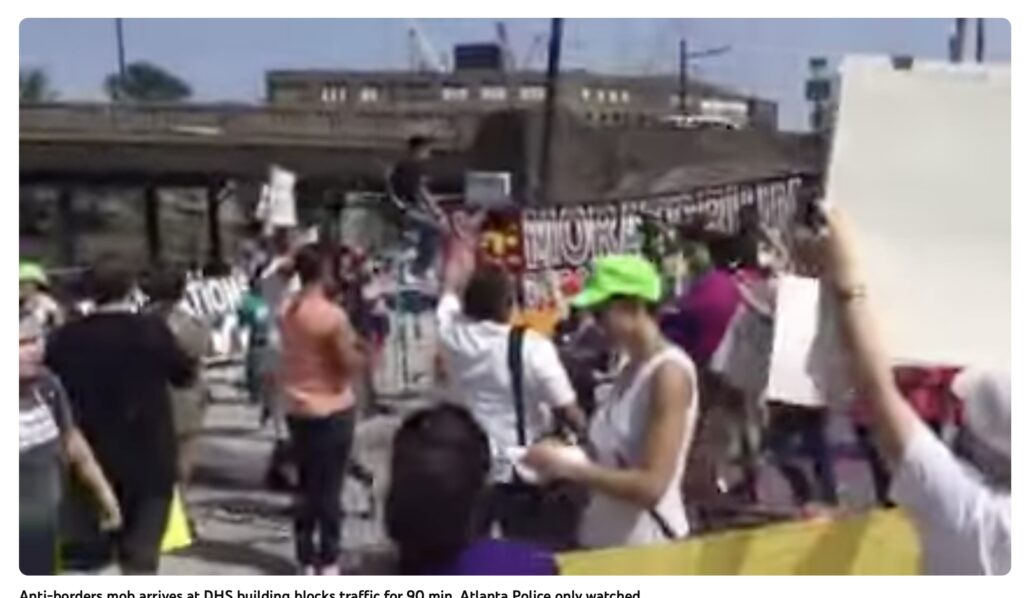 Anti-borders mob in Atlanta demands ICE be dismantled
Yesterday, a coalition of about 70 anti-borders leftists calling itself the "Georgia Not1More coalition" staged a downtown Atlanta protest/street-scream/march that began at the Georgia Capitol and eventually took-over an entire intersection adjacent to Immigration and Customs Enforcement ( ICE ) offices on Ted Turner Drive. They illegally blocked traffic from about 11:00 AM to around 12:30 PM.
According to the 'Not1More' group, they are "calling on the Obama Administration to dismantle ICE and put a moratorium on deportations now."
This writer and others watched as Atlanta police seemingly aided the mob by using a police cruiser to stop public vehicle access to the blocked intersection. The Atlanta Police Department did nothing to interfere with the chaos for about 90 minutes, until they finally broke up the mob scene. We hear there were some arrests, as some chained themselves to ladders in the middle of the street and apparently refused to migrate down and off the asphalt.
Uniformed U.S Department of Homeland Security officers watching from the sidewalk volunteered that they had no jurisdiction on the street blockage. Left unsaid was the fact that illegal aliens were angrily and defiantly shouting their illegal alien status literally in the federal officer's faces. " We aren't leaving!" "Stop Separating Families!" "No justice, no peace! – "Dismantle ICE!" And "Un-documented and Unafraid!" and "NOT ONE MORE DEPORTATION!" they screamed.
Many in the MSM describe this as "hiding in the shadows."
One can only imagine the bargaining between the leftist organizers and the mayor's office: "We demand to protest for three hours with out any of your pigs oppressing us!…" Mayor's staff: "No, too long, but we will give you an hour and a half, then release any arrestees after four hours. No charges, no court date. No fine…"
All the usual suspects
From their website we can see a list of the members of the 'Georgia Not1More coalition': Georgia Latino Alliance for Human Rights ( GLAHR ), Southerners On New Ground (SONG), Project South, Atlanta Jobs with Justice, US Human Rights Network, Southern Poverty Law Center ( SPLC ), Georgia WAND, Racial Action Justice Center, Coalicion de Lideres Latinos-CLILA, National Day Laborer Organizing Network ( NDLON ), Southeastern Immigrant Rights Network (SEIRN), Women Watch Afrika, Metro Atlanta Democratic Socialists of America, Georgia Detention Watch, GA Moral Mondays, and American Friends Service Committee, Atlanta.
As usual for such occasions, two representatives from the communist National Lawyers Guild were there monitoring and taking copious notes. One of them can be seen in the day-glow-green ball cap.
The hateful, anti-American shrieking and the anti-borders victimhood was nothing new, but I did learn a couple of things yesterday. If you want to try to get a comment from Atlanta Mayor Kasim Reed's office, you must be on a pre-approved email list. And that even if there are at least two pro-enforcement Americans present, some reporters only interview the illegal alien handlers and show only one side of the "immigration debate."
In case it doesn't make the "news," Georgia has more illegal aliens than Arizona and ranks number seven in the nation among states in that population. And as at today's anti-borders rally, English is an optional language in the Peach State.
Seeing pro-enforcement Americans at their carefully choreographed events enrages the illegal aliens and sometimes results in amusing moments. This writer received an unintentional "endorsement" of sorts yesterday; one of the street screamer's handlers used her bullhorn to shout to the crowd "No More Deportations! No More D.A. Kings'!" And "D.A. King is the face of ICE in Georgia!…"
This shout out is no doubt a reference to this writer's position as president of the pro-enforcement Dustin Inman Society.
They are organized and funded well-enough to have pre-arranged an online viewing tool and sent out an email link to the live video about ten minutes after having arrived at the intersection where the ICE offices are located. So, if you were on the illegal alien lobby's email list, you could have watched the entire street-screamer event from the air-conditioned comfort of your own home or office.
D.A. King is president of the Georgia-based Dustin Inman Society. Twitter: @DAKDIS
Original report HERE.