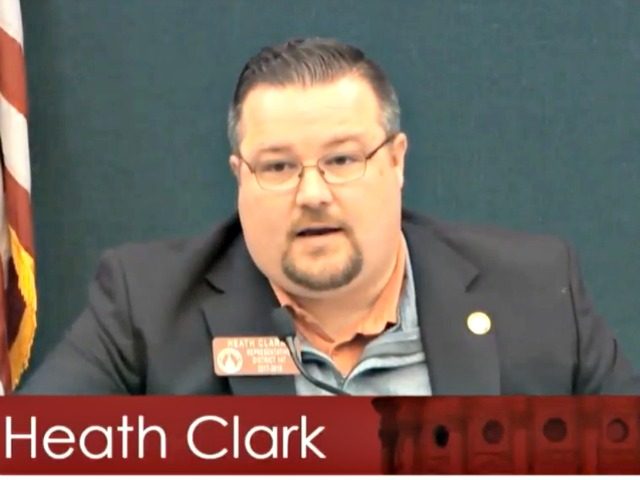 GOP Rep. Regrets 'Nazi' Claims, But Defends Gutting Immigration Enforcement Plan
Breitbart
March 27, 2018
Neil Munro
"This isn't Nazi Germany," he said March 27. "That was probably a little strong … the term was definitely probably a little far."
On March 20, Clark said he opposed an immigration-reform bill requiring non-citizens to carry documents about their visas status, adding "This isn't Nazi Germany — we are not asking people to carry their papers around on them at all times." Clark is the vice chairman of the House Public Safety and Homeland Security Committee.
The immigration-reform bill is backed by Cagle, who is running in the GOP's gubernatorial primary. A March 27 statement from Cagle's spokesman praised the original bill:
As it passed the Senate, the Ensuring Necessary Deportations (END) Act is one of the strongest measures ever proposed to keep criminal illegal aliens off our streets. The Senate crafted a common-sense bill preventing criminal illegal aliens from slipping through the cracks and committing further crimes in our society. I'm hopeful members of the House will stand up for their constituents and allow our law enforcement officers to fulfill their oath of office by upholding the law.
The Cagle-backed bill — Senate Bill 452 — says police shall notify local, state and federal officials when they arrest an illegal immigrant. The bill faces a deadline of Thursday when the assembly's annual session ends.
advertisement
But Clark and his allies took out the word "shall" out of the bill and inserted "may" at the behest of business lobbies. That change allows local business groups and ethnic lobbies to pressure police chiefs to minimize the reporting and deportation of the many illegal-immigrant workers in Georgia who hold down Americans' wages.
That "may" change is needed, Clark said, because some legal immigrants may be caught up because they do not speak English even though they are citizens. For example, he said, the new foreign wives of soldiers stationed in his district at Robins Air Force Base, may be caught by the process. "How is a law-enforcement supposed to know the [new citizens] are not required to have paperwork?"
"I want to have an immigration policy that punishes the illegal immigrants without infringing on the rights of those who are lawful residents and US citizens," he said.
Federal law requires new legal residents to carry their documents, responded D.A. King, an immigration reformer in Georgia. The required documents can be effortlessly carried as photocopies in pocketbooks or as images in cell phones, said King, who created the pro-American Dustin Inman Society in memory of Dustin Inman, a Georgian killed by an illegal-immigrant driver.
Rep. Clark also changed the Cagle-backed bill to remove a requirement that courts tell federal officials when they have convicted an illegal of any crime in the state. Clark's amended version now says judges shall only report felony crimes. That change will reduce the deportation of wage-lowering illegals who commit non-felony crimes, such as drunk-driving.
"There was a lot of concerns there with municipal county judges — this is coming from them … that it would cause crowding in jails" when people are detained for minor offenses, such as playing music too loud from autos, Clark said.
"This does not have anything to do with jail overcrowding because the person is already in prison," responded King. The Cagle-backed law requires local officials to notify federal officials 72 hours before releasing illegals from jail, he said, so "it does not entail any extra time."
Clark "does not want to talk about [the impact of illegals on] wages or jobs or for Americans, including legal immigrants," said King, adding:
He does not care about that. He did what he did because he was told to by the people who are in charge in Georgia — the business people [and the]corporate-funded anti-enforcement groups. When we see a Republican talk about 'Nazi Germany,' it is not difficult to see where it coming from.
When Breitbart News asked Clark about the impact of illegal and legal immigration on Americans' wages, Clark responded "I do have to run" and ended the interview.
The state's Hispanic population is now more than 850,000, up from roughly 30,000 in 1992. Many of the newcomers work in low-wage, low-tech blue-collar jobs, so helping company owners cuts costs and avoid investment in labor-saving machinery.
The mostly poor immigrant population is also shifting the state towards the Democratic Party while helping to lower wages state-wide and also drive up housing prices for young Americans. Here.