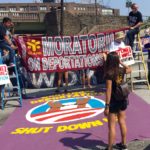 Anti-borders mob in Atlanta demands ICE be dismantled, blocks city intersection and all but one of them see charges dismissed.
Last month, there was yet another angry illegal alien lobby march in Atlanta demanding open borders. I wrote it up HERE but had to leave just before it ended. A Local TV report HERE tells us that four of the 50-70 protestors were arrested. I followed up with APD and Municipal Court yesterday to see what happened to the people who were allowed to block traffic in the middle of the day while screaming at federal officers and while Atlanta police looked on.
Below are the names of and disposition information on the four street screamers who were finally arrested by APD after illegally blocking an city entire intersection adjacent to ICE headquarters and federal immigration court for about ninety minutes.  All were all booked and reportedly charged with 'Pedestrian in the Road' on June 27, 2016. The small group of anti-American protestors started out at the state Capitol with a march demanding an end to immigration enforcement. They had communist monitors to insure the event went according to plan.
*Juan Carlos Gonzales-Medina, DOB 3/18/1979
Male
Citation # 5135710
Booking # 1600014543
→Case # 161791233
Released June 28 – cash bond $306.00
CASE DISMISSED JUNE 28 as per Atlanta Municipal Court
*Asma Miloud El Huni DOB 8/4/1977
Female
Citation # 5137282
Booking # 1600014541
Released June 27 – cash bond
CASE DISMISSED JUNE 28 as per Atlanta Municipal Court
*Paul McLennan DOB 2/16/1954
Male
Citation # 5137284
Booking # 1600014542
Released June 27
CASE DISMISSED JUNE 28 as per Atlanta Municipal Court
*Kevin Caron, DOB 8/30/1986
Male
Citation # 5137285,
Booking # 1600014544
Released June 28 – cash bond
**CASE BOUND OVER TO STATE COURT. State court clerk tells me they have not received the case yet, but it could be two years before the case is heard – it if ever is.
**MUNICIPAL COURT CLERK TELLS ME DISMISSAL AND BEING BOUND OVER TO STATE COURT "DEPENDS ON WHAT HAPPENED IN THE COURTROOM…"
City of Atlanta Pretrial Detention – 404-865-8000
Call courthouse for disposition 404-954-6767