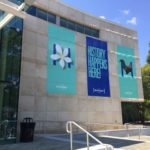 Ms. Snyder: csnyder@atlantahistorycenter.com
Your poster is about as misleading as a document can be. Immigration policy as dealt with by HB 87 is not related to racial policy. It is simple economics. Every illegal immigrant costs taxpayers such as myself significant dollars and diverts resources from otherwise improving education and service for our citizens.
If anything, preventing illegal immigration and the hiring of illegal immigrants will do much to help persons at the bottom of the economic scale – regardless of race or ethnicity – by raising their wages and reducing unemployment. I am shocked that the Atlanta History Center has chosen to display such a biased and inflammatory poster. That poster does nothing to further equality or race relations.
Please remove this offensive poster from your exhibit.
Thank you.
George Nathan
Atlanta, GA 30328