Insider Advantage Georgia
September 8, 2016
Race-baiting poster illustrates 2011 illegal immigration law at the Atlanta History Center
Georgia's internationally-publicized 2011 illegal immigration law is now a museum piece-– literally. HB 87, the "Illegal Immigration Reform and Enforcement Act of 2011" is part of a new Atlanta "Timeline" display inside the recently-opened "Gather Round, stories of Atlanta" exhibit at the Atlanta History Center.
The reprehensible, race-baiting poster put on display as the sole graphic to represent the state law should create some questions about the politics at the AHC.
HB 87 is part of a presentation of notable occurrences in Atlanta history and is set alongside events that include Atlanta's original establishment, the Civil War Battle of Atlanta, Reconstruction, Coca Cola being served in a bottle for the first time, the Cotton States International Exposition, both World Wars, "the revival of the KKK," Gone With the Wind, the tragic Winecoff Hotel fire, Hank Aaron's record-setting homerun number 714 and the 1996 Olympics.
Each event has a short description and a visual aid. As one might expect and as an example, there is a copy of Gone With the Wind, a WW l Army uniform, a baseball with to a photo of the Brave's "Hammerin' Hank" rounding the bases, various artifacts from Atlanta's distant past– and an Izzy doll to represent the '96 Olympics.
The visual for the law that passed with bipartisan votes under the Gold Dome aimed at cracking down on illegal employment and illegal immigration may came as quite a shock to patrons not immersed in the never ending battle over enforcement of American immigration laws.
For that image, the Atlanta History Center chose an anti-enforcement poster from the corporate-funded illegal alien lobby that accompanied the failed effort to convince Gov. Nathan Deal to veto the legislation after it had passed the General Assembly by large margins.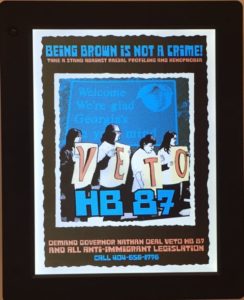 After seeing the HB 87 display on a July 4th visit, I spoke with Calinda Lee, an AHC historian and curator of the exhibit. "We select objects to represent important events and try not to take a political perspective" she told me. "We are constantly having to make editorial decisions…"
I urge readers to go see the exhibit and make up their own minds on the AHC editorial direction.
The non-negotiable heart of HB 87—which contains 23 sections— was the requirement for use of the federal employment verification system, E-Verify for nearly all private employers in Georgia. HB 87 was aimed at protecting jobs and benefits for legal Georgia residents. It worked.
In early 2011, to no one's surprise, the anti-borders gang screamed in the streets that if put into law, the measure would encourage "racial profiling," create second class "citizens" and would harm the state's economy, particularly the agricultural industry.
Fast forward: According to the U.S. Department of Agriculture, Georgia's agricultural exports reached an estimated $3 billion in 2013, up from $1.8 billion in 2009. Somebody remind me, how many times since 2011 has Georgia been declared "the number one state in which to do business?"
As a result of HB 87 becoming law most businesses in Georgia are required to use the no-cost internet-based E-Verify system. Federal regulations require that all E-Verify users display an official poster in their business that reads: "This employer participates in E-Verify." The poster must be clearly displayed in both English and Spanish.
There is a better choice for the AHC graphic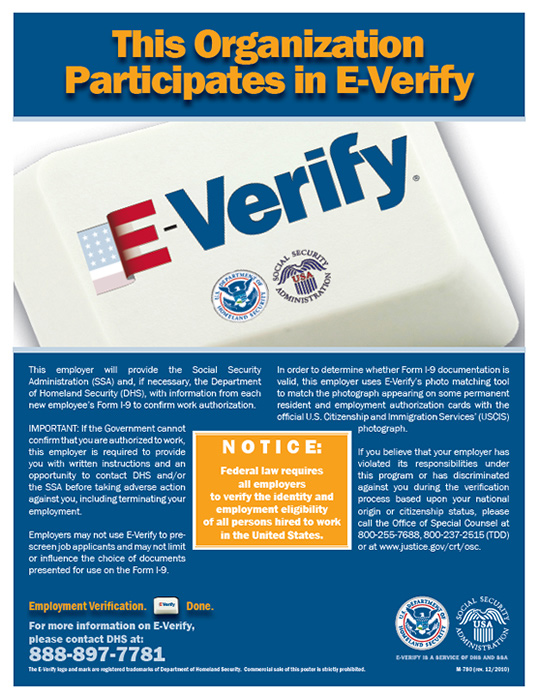 I asked the AHC curator, Ms. Lee, if she would reconsider her choice of visuals for the HB 87 display and either replace the race-baiting "poster art" with the official E-Verify poster to better educate museum goers on the real purpose of HB 87 – or at least add the E-Verify poster for educational balance. She demurred.
When I went back this week to confirm that the Atlanta History Center's HB 87 exhibit was unchanged from when it opened in July, I noted a long line of school busses outside and large numbers of impressionable school kids inside who are being taught that state law, HB 87 — enforcement of immigration and employment laws and protecting American workers from black-market labor — is somehow "anti-immigrant" and based on skin color. How "progressive."
You read it here first.   NOTE: Atlanta History Center phone number is 404-814-4000
D.A. King is president of the Georgia-based Dustin Inman Society.