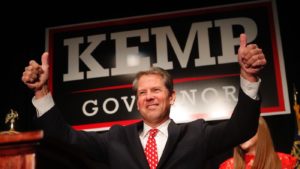 Gov Brian Kemp. Image: The Resurgent
HB444 billed as 'reform' to dual enrollment program but does not change lack of screening for illegals
Original column here from ImmigrationPloiticsGA.com 
 *UPDATE – 8:50 PM. I  was informed about 5:30 this evening that although it wasn't on the Rules calendar, while I was writing the below column, House leadership put the HB444 bill on members desks and held a surprise vote today. This was done because we were shining way to much light on the DE program and the bill. Too many House Reps were starting to ask questions. They voted about 12:30-ish I am told. The bill passed (they agreed to senate version).
Never let it be said that Gov Kemp and Speaker Ralston won't work together.
"They shoved it down our throats. If I had known all this, I never would have voted to agree" one GOP Rep told me this evening. 
__
Spoiler alert to this post: While it is billed as a way to produce a more educated workforce, the Georgia dual enrollment program allows high school students to attend public universities at zero tuition cost. It has no verification system to keep illegal aliens out of the taxpayer-funded system. And, unless they have the Obama DACA amnesty, which provides a work permit, illegal aliens are not eligible to work anywhere in the United States. Read the story on ImmigrationPoliticsGA.com here