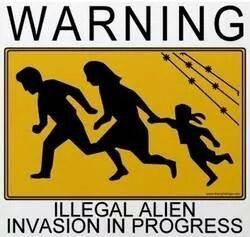 Fox News
June 17, 2018
Thousands of DACA recipients with arrest records, including 10 accused murderers, allowed to stay in US
13% of DACA had arrest record
EXCLUSIVE – Nearly 60,000 immigrants with arrest records — including 10 accused of murder — have been allowed to stay in the United States under the Obama-era Deferred Action for Childhood Arrivals (DACA) program, the Department of Homeland Security (DHS) revealed Monday.
According to DHS, 59,786 DACA recipients have been arrested while in the U.S. — approximately 7.8 percent of all who have been approved to remain in this country under the program since it was created in 2012. Of those, 53,792 were arrested before their most recent request for a so-called "grant of deferred action" was approved. Another 7,814 were arrested after their request was approved.
The DHS statistics do not indicate how many of the arrested immigrants were convicted of crimes, nor do they indicate whether charges were reduced or dropped. They also do not indicate how many arrested DACA recipients were deported as the result of a conviction.
Francis Cissna, U.S. Citizenship and Immigration Services (USCIS) director, told "Fox & Friends" the agency wants to release as much data about DACA as possible for the public and lawmakers to be informed.
"I would like people to keep in mind . . . whatever they do, I would hope that we, at USCIS, would be able to turn down these people . . . if we think they're a public safety threat . . . if someone is a gang member . . . even if they don't have a conviction," Cissna said.
WHAT IS DACA AND WHAT DOES THE TRUMP ADMINISTRATION WANT TO DO WITH IT?
Of the 53,792 DACA recipients with a "prior" arrest, more than 4,500 had been arrested on allegations of assault or battery; 830 arrests were related to sex crimes — including rape, sexual abuse or indecent exposure; and 95 arrests were made on warrants for kidnapping, human trafficking or false imprisonment. Ten such arrests — or 0.02 percent of all arrests — were made in murder cases. HERE.