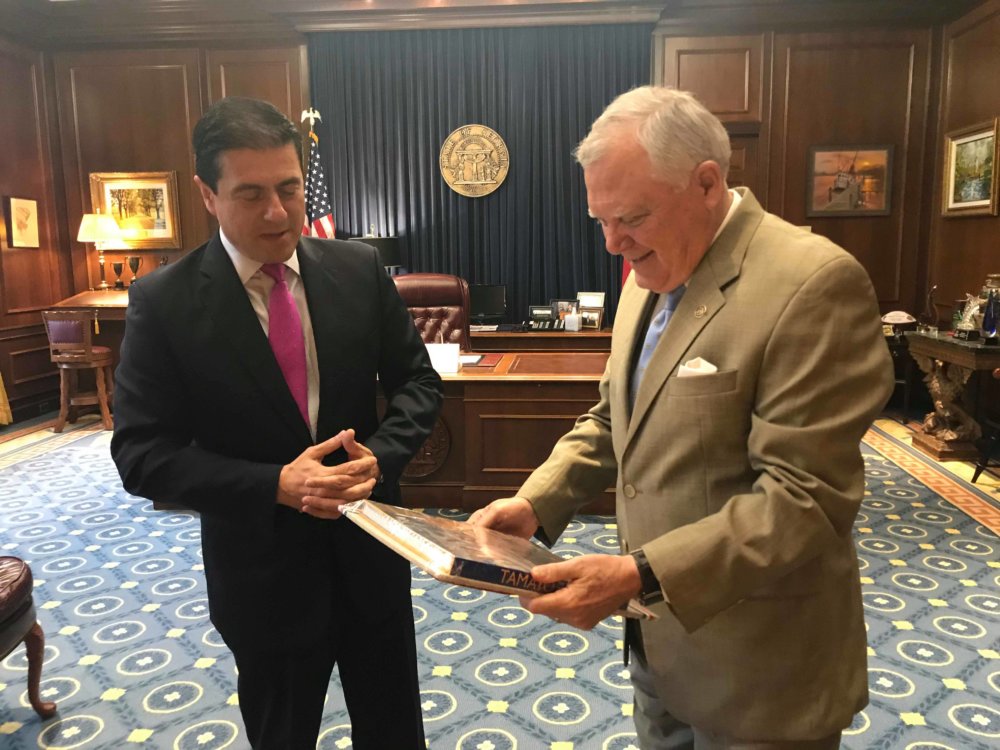 Global Atlanta
MAY 29, 2018
Mexico's Ambassador Talks NAFTA, Immigration With Gov. Deal
sNAFTA talks grew testier at the national level, Mexico's ambassador to the United States made a friendly call on Georgia Gov. Nathan Deal's office during a working visit to Atlanta last week.
Ambassador Gerónimo Gutiérrez and Mr. Deal discussed the Georgia-Mexico trading relationship, which totals $10 billion annually, according to a news release from the Consulate General of Mexico in Atlanta. They also chatted about NAFTA, migration and security during the May 22 sit-down, according to both the Mexican consulate and the state of Georgia.
Mr. Gutierrez is no stranger to Atlanta. He gave a spirited defense of NAFTA last October during a World Affairs Council of Atlanta event at the Federal Reserve Bank of Atlanta, calling on both sides to approach modernization reasonably rather than focusing too myopically on the trade deficit.
"If we want to balance trade, let's try to do it by innovating our trade rather than diminishing it. Let's go bolder than we did 25 years ago. That's the right way to go," he said at the time, leaving open the possibility that things could "go bad."
Innovating hasn't been so easy: Depending on which country's negotiators you ask, talks seem to be at an impasse as arbitrary deadlines keep flying by. The U.S. has been asking for major concessions from Mexico's auto sector — including a commitment that up to 45 percent of a vehicle be made in a "high-wage" country. The proposal is designed to bring more work back to the U.S.
Despite challenges at the national level, a Mexican consulate spokesperson said the country's diplomats regularly engage political leaders at the local and state levels too.
Mr. Gutierrez's meeting with Mr. Deal was amicable. The ambassador presented Mr. Deal with a book on a recent exhibition of the late Mexican painter Rufino Tamayo's work Smithsonian Museum of American Art.
The ambassador was in town for just a few hours. His main purpose? Presenting on U.S.-Mexico relations to representatives from Mexico's consulates from 50 states plus Puerto Rico, who had all assembled in Atlanta.
These consular protection officers convene in a new city each year to discuss best practices in their job: safeguarding the rights of Mexican nationals in the U.S.
Topics of discussion ranged from how to help Dreamers to an update on broader U.S. immigration policy, protocols on assisting human trafficking victims, analysis of hate crimes, sharing of consular resources and much more.
Mexican Consul General Javier Diaz de Leon was one of more than 50 Mexican consular officials in town for the protection seminar.
The Sixth Annual Training Seminar on Consular Protection was also attended by heavy-hitters from Mexico's foreign ministry, including Carlos Sada Solana, undersecretary for North America, and Ambassador Juan Carlos Mendoza, who heads up the ministry's Institute for Mexicans Abroad. The latter organization provides a one-stop shop of resources aimed at assisting Mexicans living overseas. Mexico's consul general in Atlanta, Javier Diaz de Leon, is the former executive director of the institute.
Mr. Diaz went with the ambassador to see the governor; he also helped organize the protection seminar, which included interactive sessions with the following organizations, according to the consulate:
Welcoming America
ACLU
CLINIC
Southern Poverty Law Center
Polaris
Migration Policy Institute
Anti-defamation League
Justice in Motion
National Immigrant Justice Center
Centro de los Derechos del Migrante, a transnational worker's rights law center based in Mexico to combat injustice in the American workplace
OIM Mexico