A continuing educational series on Georgia's illegal alien lobby
UPDATE: I don't know how it got by me, but until today I did not realize that Georgia state Rep. Brenda Lopez Romero was an illegal alien who somehow scored an amnesty/change of status. See below, from the AJC on Feb 26, 2020.
"Brenda Lopez Romero, D-Norcross, who said after spending 12 years as an undocumented immigrant, she wanted to support Fosque for speaking on behalf of those who were most marginalized." Here.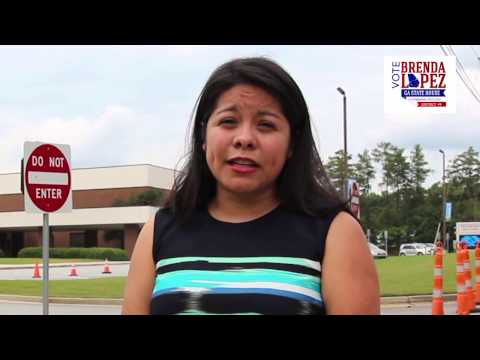 Photo: Youtube
Brenda Lopez (Romero)           **  @VoteBrendaLopez  **
Georgia State Rep, District 99 (Norcross, in Gwinnett County) HERE
Bonus insight into mass, uncontrolled immigration's effect on Gwinnett County, Georgia HERE.
Born in Mexico, became U.S. citizen "just before law school."
Anti-enforcement immigration activist on the board of the tribalist, corporate-funded  GALEO  – see HERE
As a state legislator, joins GALEO in opposition to English as constitutional official language of Georgia – says "it breeds distrust and prejudice against minority groups." HERE.
*Speaker at GALEO fundraiser September, 2016
Join us & celebrate Hispanic Heritage Month! EARLY REGISTRATION CLOSES ON FRIDAY! RSVP TODAY!
Keynote speaker:
Alejandra Ceja
Executive Director of the White House Initiative on Educational Excellence for Hispanics
The 2016 Hispanic Heritage Month Luncheon is one of the principle fundraising events for GALEO & the GALEO Latino Community Development Fund.
Date: Friday, September 30, 2016.
Time: 11:30 AM-1:30 PM.
Location: Hyatt Regency Atlanta Perimeter at Villa Christina, 4000 Summit Boulevard, Atlanta, Georgia, 30319
→Special remarks provided by: *Brenda Lopez, Representative-elect, Georgia House of Representatives, 1st Latina in the Georgia Legislature.
Mistress of Ceremonies: Lara-Carolina Fernandez, Telemundo Atlanta
On being American: Says illegal aliens with illegal Obama DACA amnesty "are basically more American than some of us that may have been born in this country, right?…these are American kids for all intents and purposes."
Rep Lopez was one of twenty-six House members who voted against HB 452, which requires that the GBI share information it is already receiving from ICE on the release of violent, convicted criminal aliens. HERE
 Lopez told a local TV reporter that alerting Georgia's county sheriffs and the public when criminal aliens – some of whom have been convicted of murder, rape, kidnapping and child molestation – are released back into our communities instead of being deported is "the most "egregious" anti-immigrant bill in Georgia in nearly a decade." The registry is "just fundamentally something that goes against our notions of privacy, also our notions of rehabilitation," Lopez said.
Note: GALEO lobbied against HB 452 in the committee process and led a forty-day activist campaign attempting to have the bill vetoed – HERE.
HB 452 is now state law.