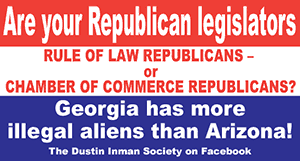 Dustin Inman Society bumper stickers now available!
Get one free bumper sticker with a $15 donation.
Our bumper stickers are all-weather vinyl measuring 7 x 3.75″.
Two free bumper stickers with a $25 donation.
We need financial help to continue our immigration crime fighting. Unlike the illegal alien lobby, we are not supported by the same big business lobby that demands an endless supply of low-wage blackmarket labor. Here in Georgia, good, trusting pro-enforcement Americans are scratching their heads wondering why many of their elected officials seem to be under the thumb of the Chamber of Commerce and on the side of the illegal aliens.
To be clear: The Republican governor of Georgia is helping the anti-enforcement leftists raise money from corporate Georgia while the Republican-controlled General Assembly rewards illegal alien with Georgia driver's licenses, official state ID cards and public benefits – including unemployment compensation.
Last year, under orders from the Georgia Chamber of Commerce, a resolution that would have allowed Georgia voters to decide on a ballot question to amend the state constitution to make English the official language of Georgia government was not allowed a vote in the super-majority state Senate.
In the 2015 session, the Republican state Senate gave its OK to drivers licenses to illegal aliens – with an unrecorded vote. Hadn't heard? See HERE. What's next? See HERE.
* Georgia has more illegals than Arizona

* English is an optional language

* Georgia ranks number seven in the nation in its population of illegal aliens

* Georgia Governor Nathan Deal –  before he openly joined the illegal alien lobby – used an estimate of "$2.4 billion annually" as the cost of the crime of illegal immigration to the Georgia budget
Now, Deal is helping the leftist anti-borders lobby with their May 8, 2015 fundraiser by attending and offering "welcoming remarks" to the elite donors. See HERE.
If you are able, please consider helping us raise operating funds ?
All contributions can be tax deductible.
For information on contributing, including mailing address, please see HERE.
Please include an address so we can mail you your bumper stickers!
We need help.