The liberal AJC posted a head-shaker column (it was in the hard copy too) by a writer named Bill Torpy at 6:00 AM today. We love the part where Torpy suggests that if an illegal alien waded across the Rio Grande, it might mean "his paperwork is messed up." The AJC crew turned off comment ability about noon and you can see from the small box at the top that there were three comments already made. I breezed through reading two of them this morning.
This is the liberal AJC norm. Advocating for immigration enforcement is "anti-immigration." How original.
Torpy clearly doesn't know much about immigration, but he can Goggle the open borders Cato Institute. This isn't his first try at anti-enforcement immigration commentary, his first one that I know of was even better. Via Twitter I have strongly urged the caring and oh-so-tolerant Mr. Torpy to go talk to Billy and Kathy Inman about immigration enforcement several times.
My friend Billy Inman posted a Tweet aimed at Torpy today too.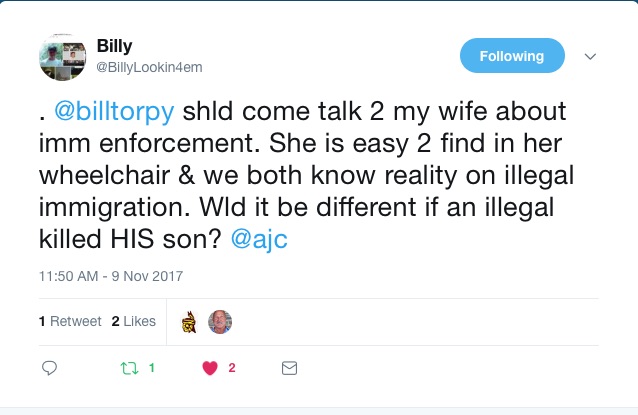 So far – no interest in American families that are forever separated by the crime of illegal immigration.
You may get a paywall, but here is the headline, link and first several paragraphs:
Torpy at Large: The real reason Casey Cagle is on Decatur's case

by Bill Torpy – The Atlanta Journal-Constitution

"Lt. Governor Casey Cagle this week again tore into Decatur, alleging that the liberal bastion is a hideaway — no, more like a sanctuary — for immigrants who have entered this country without legal permission.

Cagle filed a complaint with something called the Immigration Enforcement Review Board, a kangaroo court created by the state to give anti-immigration activist D.A. King something to do.

The Lt. Gov's beef with the city is a Decatur police manual that says the cops aren't supposed to turn over people to U.S. Immigration and Customs Enforcement (ICE) unless there's a judicial warrant to hold them.

In essence, Decatur is saying police will hang onto people they stop if they are wanted for something — an active warrant for fraud, burglary, not showing up to traffic court, etc. — but they won't throw the person into the slammer on behalf of ICE simply if there's a suspicion that they sneaked across the border without U.S. blessing.

Last year, Candidate Trump said he wanted to get rid of the "bad hombres" coming to our country, and Old Casey is deputizing himself in that roundup. In his correspondence, Cagle goes all law-and-order on this matter, talking about murders and dope dealing, and even sex cases.

Cagle's complaint states that "sanctuary policies create sanctuaries for criminals," and that he wants to "ensure that every criminal illegal alien encountered by our law enforcement officers is arrested, transferred to federal custody and deported."

"Criminal illegal alien" might mean that an immigrant is peddling meth or gang banging. Or it might mean he's a dude who waded across the Rio Grande, cuts your lawn and has his paperwork messed up…" HERE