Donor/sponsor/enabler list for Jerry Gonzalez's GALEO May, 2014 11th annual Power Breakfast fundraiser. The Annual GALEO Power Breakfast is one of the principle fundraising events for anti-borders GALEO & the GALEO Latino Community Development Fund.
Jerry Gonzalez bio HERE
PHOTO – that is Jerry Gonzalez on the far-left with more of Georgia's illegal alien lobby in Georgia Governor Deal's office, July, 2014 from a WABE radio story HERE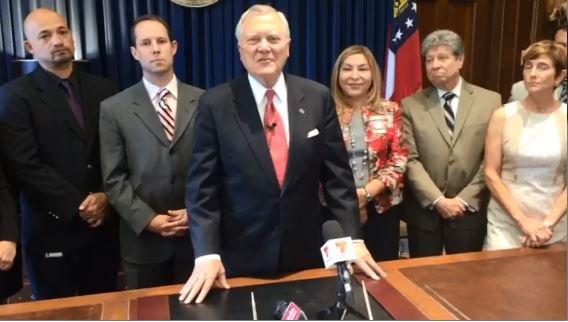 Gerardo E. (Jerry) Gonzalez is a former MALDEF employee.
Important, (but ignored by the media) quote from MALDEF co-founder, Mario Obledo: "California is going to be a Hispanic state and anyone who doesn't like it should leave. They ought to go back to Europe."
Thank you from Angry-Jerry Gonzalez HERE .
List of illegal alien lobby fund-raiser event sponsors:
*Georgia Republican state Senator Jack Hill
*Georgia Republican state Senator Tommie Williams (Note, we see a "thank you" to Georgia state Senator Tommie Williams at the fundraiser, but not a formal note of his donation. Maybe they are referring to Williams' help in joining Jerry Gonzalez in South Georgia (June, 2014) to address a group to 'get out the vote'…)
*Cox Enterprises – owners of: Cox Media group, Auto Trader,
*Kuck Immigration law Partners law firm Charles Kuck is vice-Chair of the GALEO Board of Directors – most media in Georgia, including the AJC simply describes him as "an immigration lawyer."
*McGuire Woods law firm
*McKenna Long Aldridge law firm
*Jason Esteves Atlanta Board of Education – * Keynote speaker and member of the Board of GALEO
*AmeriMex Communications Corporation
*Briarcliff Pediatrics (this office is operated by Jerry Gonzalez's husband, Dr. Ray Deeb )
*Rey Pascual Rey Pascual is a member of the Board, GALEO
*Rohan Law, P.C. Douglas Rohan is a member of the Board of Directors, GALEO
*Southwest Airlines ( there was a later drawing for two airline tickets donated by SWA – the winner was GALEO member Republican state Senator Jack Hill. Gonzalez congratulated Senator Jack Hill in a GALEO "get out the vote" newsletter in June : "Congratulations to Georgia State Senator Jack Hill (R-Reidsville), the GALEO Member who renewed his membership during the months of May/June to qualify for a pair of Southwest Airlines tickets! We drew the winning ticket on Thursday, July 10th at the GALEO office. Pictures are posted on our facebook wall! There is a lot going on and your actions and raising your voice is necessary."
*International Women's Health Services
*The Road to Recovery Inc. (This immigration-dependent business was founded and is operated by Rocio Woody, who is also a Board member of GALEO. Rocio Del Milagro Woody was appointed to Georgia's State Board of Corrections in the fall of 2013 by Republican Governor Nathan Deal and confirmed in that position by the super-majority Republican-controlled state Senate. Breitbart write up here.)
*Judge Dax Lopez –Lopez is also a member opf the board of GALEO
*La Voz Latina, Savannah
* Leonard Gomez, City Council, Grantville Georgia – Gomez is a product of GALEO network 'Institute for Leadership' anti-borders training in community organizing
*Mimi Woodsen, City Council Columbus, Georgia – Woodsen is also board member GALEO
*Georgia state Senator Nan Orrock (D)
*Georgia state Representative Pat Gardner (D)
*Laura Murvartian – Murvartian is an Executive Member of the board of GALEO – Treasurer
*Rey Martinez, City Council Loganville, Georgia
*State Farm Insurance Co. did not participate this year, but usually does. HERE is link to 2013 event.
Entire list as posted on GALEO facebook page here
Photos here
Link to 2014 GALEO Board members HERE
Training future anti-borders radicals HERE