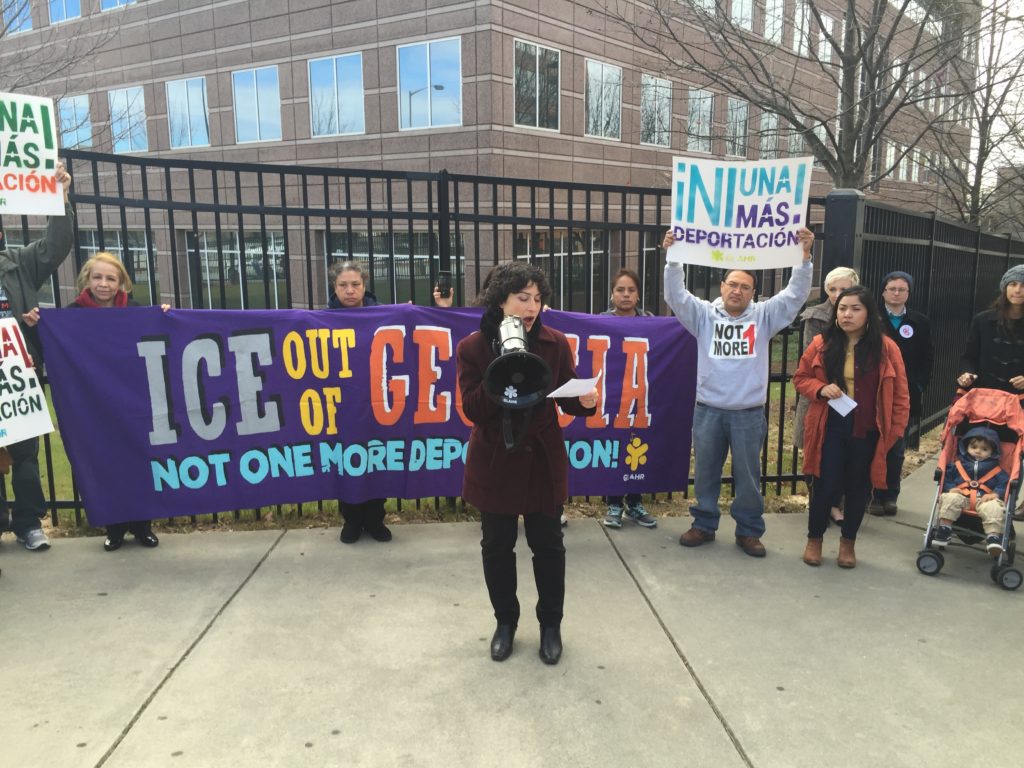 Azadeh Shahshahani, leads an early 2017 anti-borders protest in front of  ICE building in Atlanta
Photo: Dustin Inman Society
PRESS ADVISORY
November 13, 2017
Contact: Adelina Nicholls, Georgia Latino Alliance for Human Rights, (770) 289-4833, anicholls@glahr.org
Azadeh Shahshahani, Project South, 404-574-0851, azadeh@projectsouth.org
Tania Unzueta, Mijente, 773-387-3186, tania@mijente.net (National Contact)
Organizations in Georgia File Lawsuit Over ICE Secrecy and Tactics, Denounce Potential Expansion of 287(g)
Immigrant and civil rights groups in Georgia and around the country file lawsuit after ICE denies access to information regarding recent mass raids
· WHAT: Organizations in Georgia and around the country are highlighting local ICE enforcement tactics and filing a federal lawsuit against ICE and the Department of Homeland Security (DHS) for refusing to release information regarding the recent announcement of the what was supposed to be the "largest raid in U.S. history."
At the same time as the lawsuit is filed, community groups in Georgia and around the country are denouncing the potential expansion of the disastrous 287(g) program.
· WHEN: Tuesday, November 14, 2017, at noon
· WHERE: In front of ICE office – 180 Ted Turner Dr SW, Atlanta, GA 30303
· WHY: In early September after it was announced that ICE would conduct the largest mass raid in U.S. history, Operation Mega, over 200 groups including GLAHR and Project South filed a FOIA requesting information about the planned mass raid, particularly after its supposed cancellation. ICE has refused to make the information public, denying the FOIA request. The lawsuit argues that the public has a right to this information.
By denouncing immigration enforcement activities and tactics and organizing against deportations, groups taking part in these actions are making public some of the information that ICE has refused to release.
Georgia groups also denounce the potential expansion of 287(g) to Bartow and Floyd counties and the Georgia Department of Corrections in light of its disastrous impact on immigrant communities and communities of color in Georgia, leading to an increase in racial profiling and a marked reduction in community safety.
###
The Georgia Latino Alliance for Human Rights educates, organizes, and empowers Latinos in Georgia to defend and advance their civil and human rights. Established in 2001, GLAHR is a community-based organization that develops statewide grassroots leadership in Latino immigrant communities. Over the past 10 years, GLAHR has established a powerful network of informed and engaged community members through base-building strategies that defend and advance the civil and human rights of Latinos and immigrants living in the Georgia. Visit www.glahr.org for more info.
Georgia #Not1More Coalition Members: Georgia Latino Alliance for Human Rights (GLAHR), Southerners On New Ground (SONG), Project South, Women Watch Afrika, US Human Rights Network, Atlanta Jobs with Justice, Southern Poverty Law Center (SPLC), Georgia WAND, Racial Justice Action Center, Solutions not Punishment Coalition, Black Alliance for Just Immigration (BAJI), Metro Atlanta Democratic Socialists of America, Georgia Detention Watch, Jewish Voice For Peace, Hate Free Decatur, Beacon Hill NAACP.
Mijente SC is a digital and grassroots hub for Latinx and Chicanx organizing and movement building. Campaigns combating criminalization, including the detention and deportation of migrants has been at the center of our work. Mijente SC builds from the successes of the #Not1More Deportation campaign, which sought a stop deportations through administrative action. Visit www.mijnete.net for more info. Follow at @conmijente