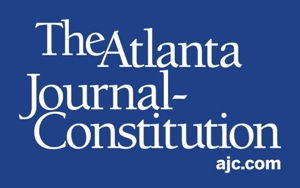 photo: AJC.com
The AJC "news" report is HERE.
I have added some links to the letters below to educate the reader. I post them here in case the AJC forgets to publish any of them.
Readers Write: Oct. 31
 Our Readers
*Added October 30, 2017 8:45 PM: The letters below were sent to the AJC and copied to me. The one above was posted tonight in the AJC for the Oct. 31 edition. The author did not copy me.
__
To the editor,
As an immigrant and an advisory board member of the Dustin Inman Society, I find your articles that repeatedly characterize the Dustin Inman Society as anti-immigrant, and now via slanders of the Southern Poverty Law Center, as a "nativist extremist group," to be extremely offensive.
My parents and aunts and uncles fled a communist regime and spent years in refugee camps, and only emigrated after finding sponsors. They went through the proper steps.
One of the most important civics lessons I learned as a schoolgirl in Rochester, New York, in the 1960s was that the United States system was based on fairness.
To blur the lines between legal and illegal, as your newspaper has repeatedly done, is a violation of the underlying principles of American justice and an insult to all immigrants.
Sincerely,
Mary Grabar
Clinton, NY 13323
—
Dear editor,
My family recently returned to Texas where I grew up in a border town after 16 years in the Atlanta area. We still monitor Georgia politics, especially immigration issues. I am a proud Latina donor and board member of The Dustin Inman Society; we follow our friend D.A. King's efforts to help people understand the truth on immigration and the law.
I was stunned and outraged when I read the AJC piece on King and the Immigration Board that curiously featured the SPLC and remarks from Jerry Gonzalez of GALEO. Gonzalez is widely known for opposition to any immigration enforcement efforts – state or federal. The Anti Defamation League has criticized SPLC for faking a "hate-group" crisis.
Georgia corporations, including the AJC's parent company, Cox Enterprises, largely fund GALEO. It is insulting that this wasn't noted in the AJC piece about D.A. King and The Dustin Inman Society's citizen donors.
Maria Silvia Montoya
Sherman, TX 75092
—
Dear editor,
As a Black American conservative and proud member of the Board of Advisors of the Dustin Inman Society, I was saddened to see the AJC report on the Immigration Enforcement Review Board that seemed to stray into smear politics.
I have been a friend of D.A. King for more than a decade and have worked alongside him as a volunteer at the Gold Dome to educate legislators on our illegal immigration crisis. I have also watched the SPLC smear conservative political opponents as "hate groups" in an effort to discredit our work. Referring to D.A. King as anything but an honest, hard working patriot who believes in immigration sanity is shameful.
I have had first hand experience with the SPLC when, along with many Black, Asian and Hispanic Americans, I attended an informative 2015 immigration seminar in Washington, DC that the SPLC later falsely described as a "white nationalist" meeting.
The AJC has damaged its reputation by using the race-baiting and discredited SPLC as an authority on immigration and integrity.
Inger Eberhart
Kennesaw
—
To the editor:
Your article entitled "Georgia's immigration enforcement panel draws scrutiny" came across as over the top biased against the Dustin Inman Society and its founder D.A. King. The credibility really went down the tubes when you used The Southern Poverty Law Center (SPLC) as a supposed reliable source. By their definition I would be considered a hate group because of a Christian organization I belong to that believes in traditional values. You can do better than this.
Leslie McPherson
Villa Rica, GA
—
Dear editor,
Re; the AJC on D.A. King: The Dustin Inman Society is named after a 16 year-old Woodstock boy who was killed by an illegal alien who escaped capture and is now hiding out in Mexico. D.A. King has been fighting illegal immigration since he quit his own business in 2003. In your report we find out the SPLC wants to label The Dustin Inman Society a "hate group."
King should be thanked for the complaints against the officials in Georgia who are evidently violating state laws.
The SPLC is a fake civil rights group that has a poor record. In 1994 Alabama, the Montgomery Advertiser newspaper reported African-Americans had never "held top management positions in the center's [then] 23-year history, and some former employees say blacks are treated like second-class citizens."
That the AJC reporter used the discredited SPLC to attack King and the Dustin Inman Society says a lot about the AJC reporter.
Bill Buckler
Kennesaw
—
Editor,
The article this week about the Dustin Inman Society and complaints about violations of state laws on illegal immigration filed by D.A. King seemed to us like the AJC had other things on their mind.
Inserting the SPLC into the news article was rather obvious.
My wife is an immigrant, which means she is here lawfully. We resent the AJC headlines that read "immigrant" when the topic of the story is clearly illegal aliens who are usually portrayed as victims. We want our borders secured and our laws enforced. Even for immigrants. The SPLC attacks virtually everyone who thinks like this. Your reporter also told us that Jerry Gonzalez doesn't like King or the immigration enforcement board, but we saw no reference to where Gonzalez gets the money to operate GALEO while he protests against immigration enforcement.
We need more D.A. Kings and far fewer people like Gonzalez and the SPLC staff. And we need fair reporting.
John Litland
Marietta